Despite the cloudy and rainy weather, the kids got the chance to experience the beach, in the form of a cool craft. After a short period of coloring, our little beach-bums peeled and stuck onto their sketchbook page a whole lot of watery waves and shrouding clouds. Then they were given beach related objects, like a watermelon, a crab, starfish, a sun, seagulls, jellyfish and some seaweed, all prepared with double-sided tape so they can stick them anywhere. They had a lot of fun thinking about where to place each object and while that may seem like the end of the craft, the real fun is just beginning. Now we can play hide and seek at the beach at any time! "Where is the crab?" Is it under the sand? Under the left ocean wave? The right? Behind the clouds?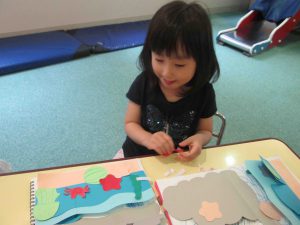 The classroom was filled with excitement and laughter as we all tried each others sketchbook beach!
I hope you guys had a wonderful time, by the number of smiles, I can guess that you did!